Museum of Fine Arts - Constantly changing exhibits which showcase some of the finest artists from the Southwest. Open T-Sun - 10-5 Friday nights until 8:00pm. Located: 107 W. Palace Ave. http://www.mfasantafe.org/
San Miguel Mission Church - While there is some debate about the exact date of its founding, there is no doubt San Miguel is the olest church still in operation in the United States. The origens of the the mission date from the early 17th century via the work of the Tlaxcalan Indians. It is awe inspiring and has examples of some outstanding artifacts and artwork. It is open from 9-5, M-F and 1:30 to 4 on Sundays.
Loretto Chapel
What is Santa Fe without a history of mystery. Loretto Chappel has a story for you. Completed in 1878. Look at the staircase. The legend states when the Church was constructed there was no staircase or room for a staircase. It is said that the nuns prayed for a solution. On the ninth day of their prayers an unknown carpenter appeared with incredible skills and constructed an enchanting staircase. While there is no Elvis in the building - the chapel is popular for weddings. 277 Old Santa Fe Trail. Website
Burro Alley
Located between San Francisco Street and Palace Avenue, is the famed "Burro Alley". Once known for being a gambling and red light district of Santa Fe, it was named for the burros that used to carry fire wood to the establishments.
Institute of American Indian Arts Museum - An outstanding collection of over 7,000 Native American art pieces. There is also a school onsight dedicated to teaching Native American arts. Lacated downtown at 108 Cathedral Pl, Santa Fe - 505-983-8900. M-Sat 10-5 and Sunday 12-5. $5.00 admission. website
Palace of the Governors - TConstructe in 1610 as the seat for the Spanish government, it is the oldest public building in the United States. Excellent way to a primer on the local history. Hours are Tue-Sund 10-5. 105 W Palace Avenue. Website
Sena Plaza - Step through one of the doors at 125 E. Palace Ave and become mesmerized into old Santa Fe. Originally the home of merchan Juan Sena who aquired the land in the 1700's, he built a territorial sytle mansion which is now comprised of small shops and a wonderful peaceful plaza. website
Santa Fe Plaza - This is where all the action is. The hub of Santa Fe since the 1800's where all the trade wagons congregated.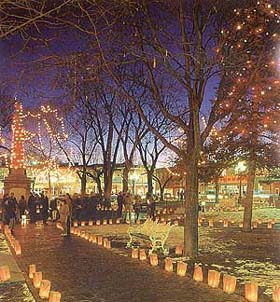 La Fonda - The hotel lobby is a piece of history. From 1926-1969 it was a Harvey House of the famous Fred Harvey chain. Wonderful artwork in the lobby. 100 E. San Francisco St. website
Bandelier National Monument - 48 miles northwest of Santa Fe holds the remains of the Pueblo culture that inhabited the area from the 12th to the 16th century. Walking and climbing required to enjoy all aspects of the park 33,000 acres Website
RELATED ARTICLES-LINKS:
Top Ten Places to Visit Albuquerque New Mexico
Back to International Travel Report